We really liked Aiken. We entered the town as the sun was setting, the light was golden, and everything was beautiful. We were surrounded by cotton fields and instantly felt the peace and calm that comes with country roads and farmland. The kids had never seen cotton growing so we pulled over to check it out.
Aiken is the perfect size, it's bigger than a town and smaller than a city. Downtown had a few blocks of local shops and restaurants in historic brick buildings and sidewalks lined with trees, lampposts, and clocks. It seems like it's always been lovely like it never got run down but never grew big either. We loved walking around the little shops, sipping coffee, and getting treats from Cyndi's Sweet Shop.
Tom and I had a date night and enjoyed poking around town kid-free. I 100% suggest traveling alongside family or friends who you can trade childcare with. Living tiny = lack of space, so dating your spouse becomes extra important. 
Does everyone make your husband take photos in front of cute signs or pose with good trees? Just me?
It's known as an equestrian town. They raise and train horses for the Kentucky Derby. There are neighborhoods full of luxurious historical homes and stables and you may find yourself pulling over to yield to the horses.
But just look how amazing this street is.
Our favorite place was Track kitchen. Ms. Carol has been serving up home cooking for this community her whole life. Nothing is fancy or especially delicious but the hospitality is unmatched. When you swing open the screen door with chipped paint you'll enter a room covered in photos of the town's best horse races and jockeys, displayed the way a proud Grandma would in her living room. Ms. Carol will greet you from the kitchen and take your order without stopping as she stirs her pancake batter. You'll walk yourself right back into the kitchen to fill your own coffee cup.
We stayed at Aiken State Park. We rented canoes and paddled down the Edisto River. The river weaved its way through huge cypress trees surrounded by knobby knees poking up around their bases. We struggled with our boating skills through the twisty waterways but we had good laughs while we ducked under tree branches and tried to avoid spider webs in our hair. Noah noted that next time he'd prefer a different boating partner.
While here we visited Congaree National Park. It's one of the nation's smaller parks and before planning this trip, I'd never even heard of it. It's the largest expanse of old-growth bottomland hardwood forest in the southeast. Boardwalk trails give visitors the opportunity to experience a floodplain – a place you'd otherwise have no way to walk through. We were in awe of the huge trees and swamp areas. It's a landscape far different than anything we've seen on the west coast.
The kids learned all about the park and earned another Junior Ranger badge for their collection. One of my favorite things about travel life is the rich opportunities the kids have to learn. There is no way this stuff could be learned from a classroom. To learn about the natural world while actually in it is a gift that I'm so thankful my children get. The Junior Ranger program offers great free curriculum that we love to add to our studies.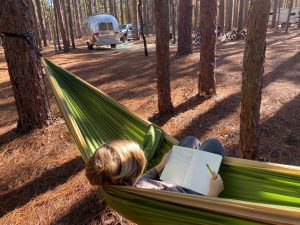 Aiken State Park offers a simple campground. Nothing fancy, but sufficient with clean facilities. The selling point is the river and the paddle experience. We also enjoyed the trails that started right in the campground. There is free spring water too which is always a perk.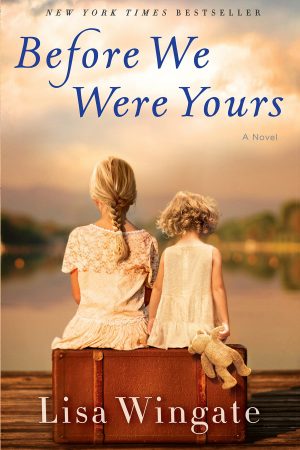 I loved Before We Were Yours by Lisa Wingate. It is a historical fiction novel that sheds light on some really ugly history of corruption in orphanages in America. It has a bit of a mystery as multiple generations come together to uncover long-buried family stories. It's a page-turner and a moving story that hits your heart.