I hope I can always remember what this day felt like. I hope I can always remember the way we exhaled a year and a half of really hard work to get to this day. Or the way Tom's shoulders seemed to relax and he seemed to stand a little higher without the weight of so much to do on him. The way I wanted to scream and shout and dance because we gave up so much and stepped so far out of our comfort zone and worked so hard and put in so much literal blood, sweat and tears to get to this day that had finally come. This day was really really special.
We meant to leave in the afternoon. The house was empty, the stuff in storage, the things were done. That turned into evening. That turned to "whatever, leave at 10 at night and drive even just two hours." That turned to 2am. After taking the trailer off of the blocks it had been on for the last 6 months, something shifted and the door wouldn't latch right. The tools were gone, in storage or given away. So we couldn't leave and we spent our first night in our new home sleeping parked in front of our roommate's house. We temporarily got the door closed and stopped by a friend's house on the way out of town to borrow a tool and get it repaired, but eventually, we were on the way. 
The feeling though, that one I want to remember. It was so good and so big once we were finally really on the road. Driving north out of Phoenix with the saguaro out the window and seeing Ramona in the side mirrors, man I felt happy.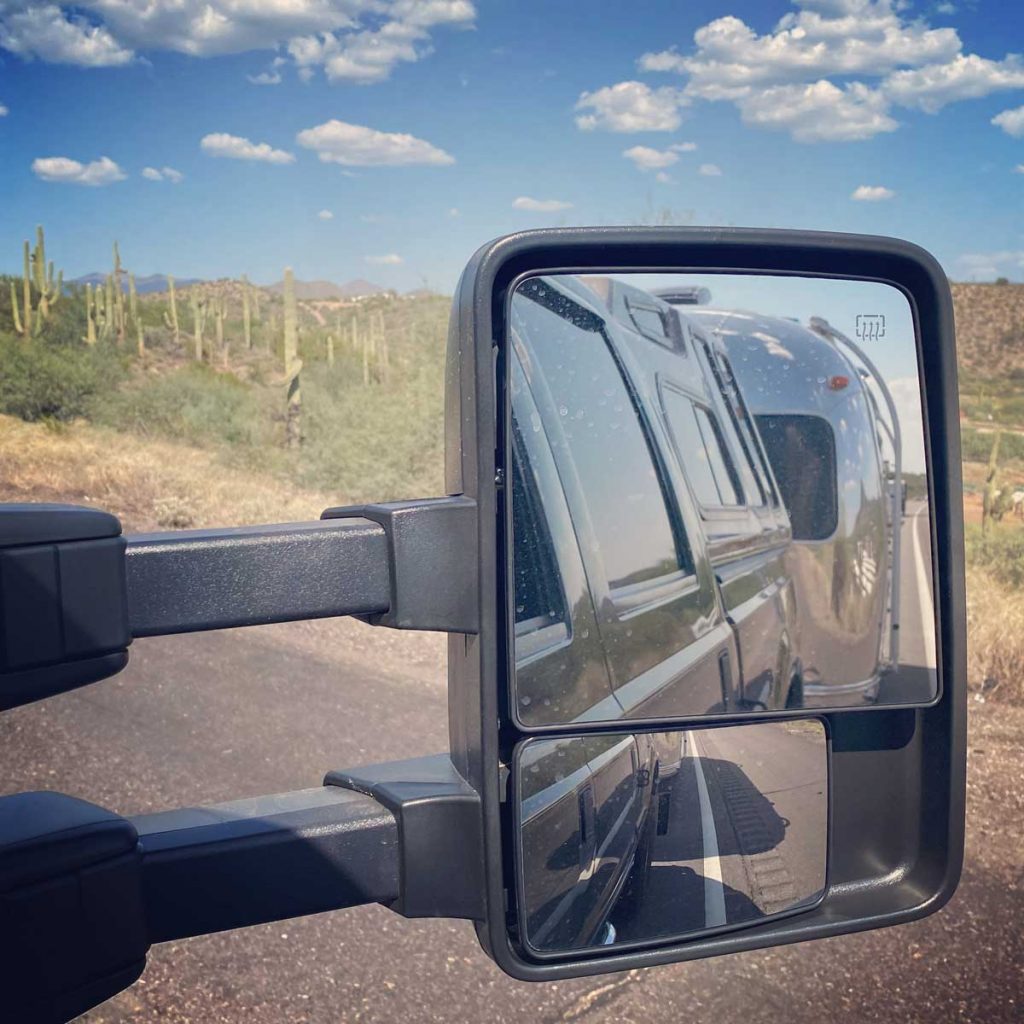 We have a tendency to be last minute about things and have things sort of thrown together in the final hour. So if you know us, it shouldn't be a surprise that we didn't do a test run. No samples, no trials. We went from never hitching this thing up once it was finished, not quite sure everything works or will hold together, not even confident the brakes were working right to "let's just hitch it up and drive across the country and live in it." With all the excitement, we still had some level of apprehension that we would open the trailer and things would have fallen apart. If you've spent any time in the online airstream community, you've heard the horror stories of piles of wood that were once cabinets before driving. 
Our first night stop and first real night in the trailer was when the real peace kicked in. Peace we found when after a day of bumping down the road, everything was in one piece. We arrived in New Mexico and we were greeted by the most beautiful night sky I've ever seen in all my 35 years of life. You could see the Milky Way so bright and millions of stars shining like a sweet little gift to tell us, "this is your life now, well done." We wrapped blankets around our little family and spent some time just taking it all in and then having the most restful sleep – free of falling asleep to thoughts of to do lists. When we woke I cooked our first meal in our new home while the children picked me wildflowers. So much peace, so much excitement for our new life. I hope I always remember how this day feels. 
We found a great free campsite on Campendium called "Joe Skeens Campground" in Grants, New Mexico. It was conveniently just a few easy miles off the highway. This campground was surprisingly well kept and clean for a free place. Each site had a picnic table and shade structure. There was also trash, water and clean bathrooms.