Before our travels we had a family planning night with Scott and Lauren where we pulled out the atlas and dreamed big. We all looked at the map and talked about all the places we'd love to see. We put little post-it notes on all our U.S. bucket list places. We noted The Blue Ridge Parkway, "America's most scenic highway"  as our chosen route toward The Smoky Mountains. So when we hopped on it, it felt like a fun check on the bucket list.
The Blue Ridge Parkway is a 400 mile scenic highway that starts in Virginia and ends near Asheville, North Carolina. There are no street lights, billboards, shops or distractions, only scenic overlook, after scenic overlook, after scenic overlook – until your kids are shouting, "Dad, please don't make us stop and look at mountains anymore!"
Really though, the views are absolutely amazing. As far as the eye can see there are layers and layers of rolling mountains. They get their name because they appear shades of blue due to a chemical released by the native trees that scatter blue light from the sun. 
We planned the next few weeks, and spots, along the Blue Ridge so we could camp and explore, and then hop back on and enjoy the ridge some more.
Our first campsite was a total fail, the place looked great online, but people had really abused it. There was so much trash, specifically broken glass, that we didn't feel like the children could even go out and play. It's really a shame when people abuse the land and ruin the opportunity to enjoy nature for others.
We ended up at a fun little RV park called "Sandy Creek Family Campground". I'm normally not into RV parks, but this one had lots of open space in a big field with all the yard games a kid could ask for. 
In walking distance from the campground, we hiked to Stone Mountain State Park where we enjoyed little waterfalls and a neat Carolina landscape that was new to us. 
We finished our time at that spot and we were ready to move on to the next. Back on the Blue Ridge. More Scenic Overlooks.
Pro Tip: Watch your fuel, towns are few and far between.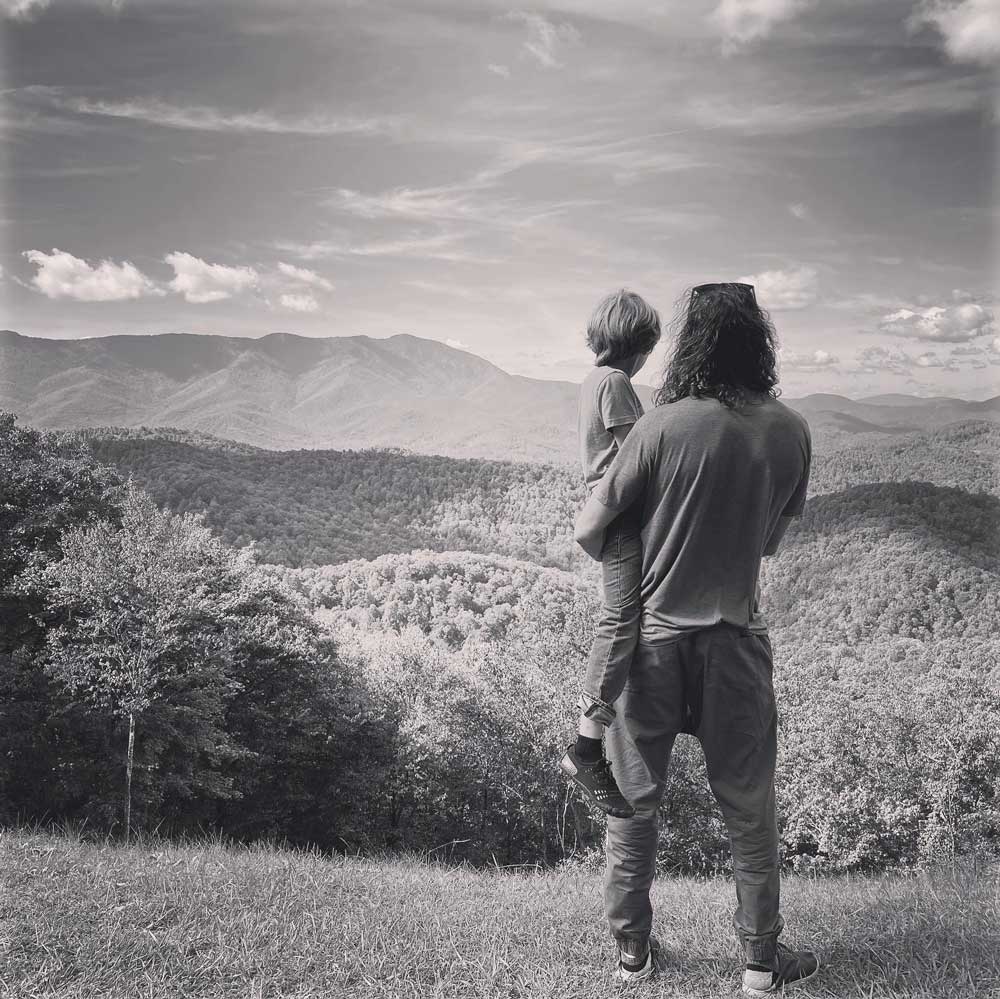 We found a new spot to boondock, far from towns, way down county roads. This next week was rough. For the first time, I felt like our 168-square-foot home was a bit small. Usually, the expansive space of forest and nature that feels like part of our home makes up for small living quarters, but this week it just rained and rained and rained some more. So much rain.
I'm from the desert, I didn't even know that places rained like this. Things got wet and never got the chance to dry. We threw out molded clothes and camp chairs. We had to wipe the insides of the windows every day to combat mildew from growing. We had to build a trail from our Airstream to our family's RV to get through the mud. The kids were all cooped up and wild and I was rude about it. Tom took the opportunity to get in good work days in town and we all just tried our best to survive cabin fever, trailer style.
Two times we tried to get out and change the scene, but then the rain would pick up again to ruin a hike plan, or indoor activities were restricted from COVID – it was really a situation. 
With all things, there is a silver lining. There were sweet moments in the rain, moments of warm cups of tea by the light of beeswax candles. We had slow school days and good books and family games. We baked bread, had soup and pot pie, and enjoyed our time being cozy. Sort of. 
Another bonus of rain while boondocking is bonus water. If your kid is going to get soaking wet anyway, hand them a shampoo bottle to shower with all the water running off the awning!  😉
When the sun finally decided to shine, we had a great day exploring Linville Falls. We hiked to multiple waterfalls while the kids learned about the nature and history of the area while becoming JR Rangers. The Blue Ridge has a really cool Jr. Ranger program. There are multiple spots along the parkway where kids can earn badges, but if they do multiples they earn patches, pins, and extra goodies. 
We made our last stop on the parkway where we enjoyed an awesome hike and gave some love to our leg and butt muscles. We challenged our fears of heights with a steep climb where we were rewarded with the most beautiful views and reminders of how amazing this life we are living is. 
The Blue Ridge ends in Ashville. We had some drama with our batteries and needed a spot with hookups and a city for errands for a few days so we stayed at a KOA. It was our first RV park and the kids loved it. While I can't say being 20 feet from another rig is my jam, nice parks do have perks. We all enjoyed long hot showers and the kids had so much fun with all the games. Our site was right on a pond and we rented a canoe to paddle around the lily pads.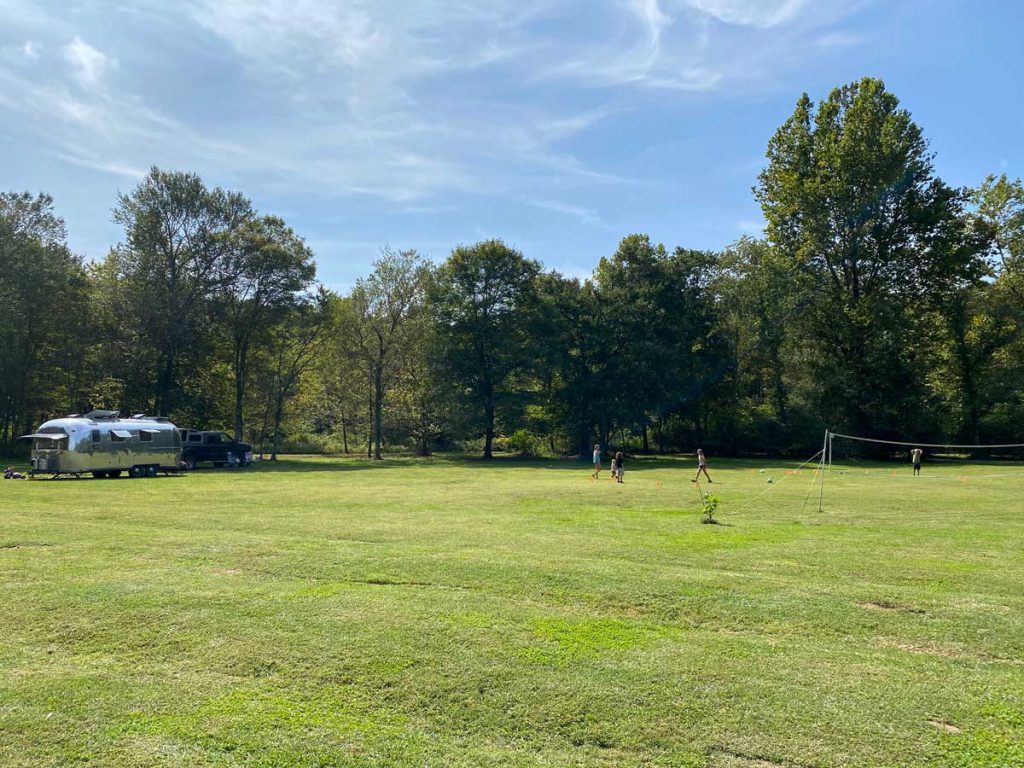 Sandy Creek Family Campground, Traphill, NC –
This little private RV park is the best in the area. We found it on a whim after searching all the options nearby. It runs along a little creek and the spots all have decent space opposed to other RV parks that can feel like parking lots. There is a playground, lots of outdoor games and a huge field where guests can play ball or frisbee. It was great for kids and the owner was super kind. 
"Brown Mountain Roadside Campsites" Pisgah National Forest, NC –
This was a great boondock spot! Each site was large enough for multiple campers, but separated from others by lots of trees, so each site felt secluded. The sites had picnic tables and fire rings. The downsides are that the closest "towns" were definitely backwoods Carolina. There is a river which is great, or not…. (The campsites are technically in a flood zone and the river went from peaceful to threatening really fast. We felt safe but sites further down could leave folks stuck behind where the water crosses the path.)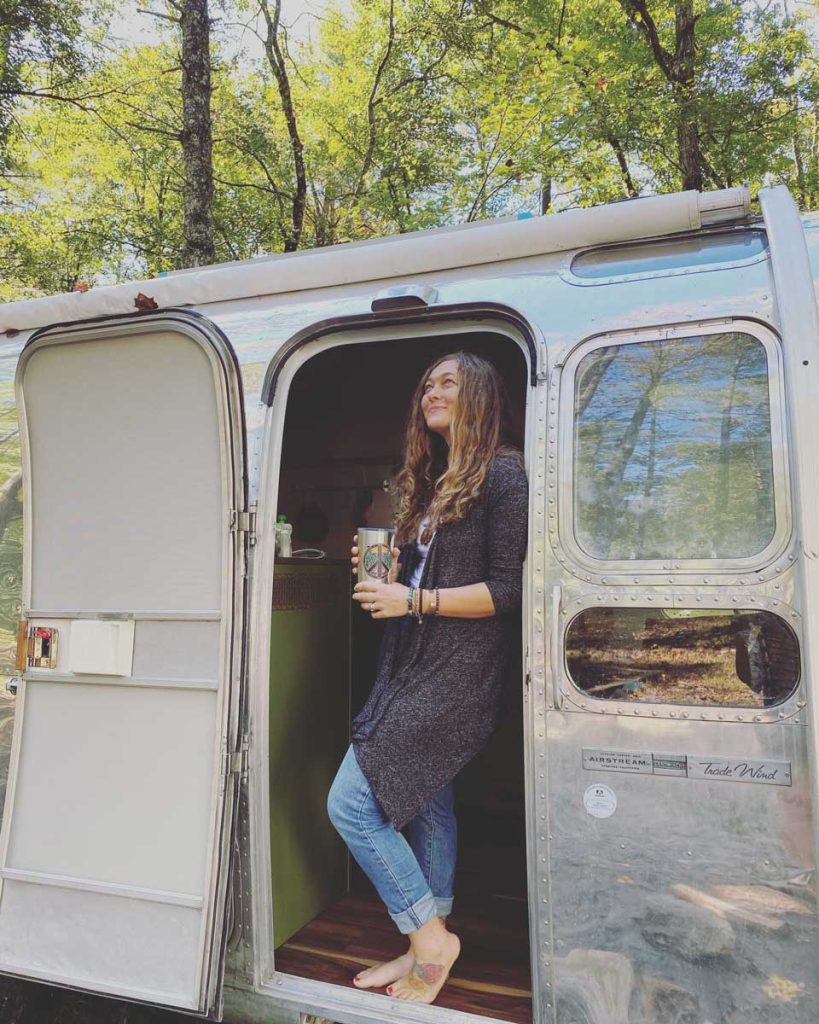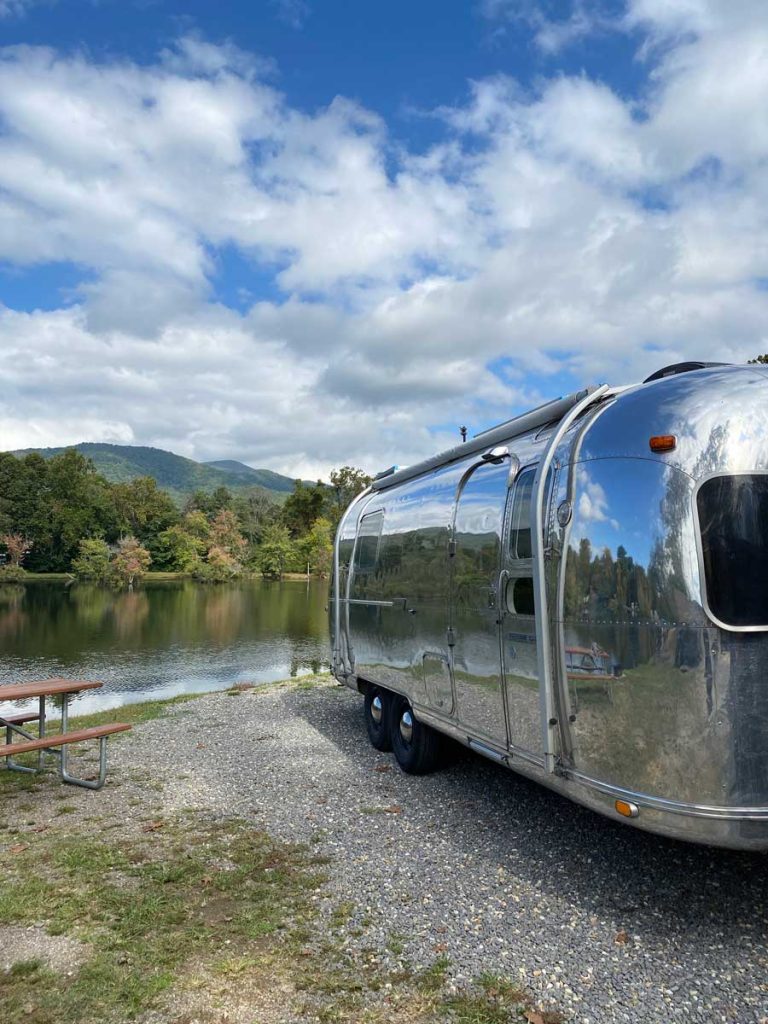 KOA's are bougie. This park had all the amenities like marble-tiled showers, free coffee, and an arcade for the kids. You don't even need to take out your own trash, the employees come around on golf carts and collect it from the curb. Most of the park has sites crammed so close together you could reach out the window and high-five your neighbor (I'm known to exaggerate, but that's what it feels like). However, the pond side sites are spaced out and right on the water.