The Great Smoky Mountains
We found the perfect camp spot with our own little beach on Lake Santeelah (Update: a year after first journaling this, it is still one of our favorite sites). I can't get over the fact that places this wonderful are around and free to camp at. 
We had a summer-style day in the warm sun with a picnic, swimming, drinks while floating on tubes, relaxation, and the joy of children's laughter. Fall is coming and the trails are full of leaves which the kids gathered into piles and had tons of fun jumping in. Tom brought his camping chair to the beach and set up a super cool office for a work day at RizeUp! Marketing. We were able to see how special what we are doing is. A random Thursday that feels like a vacation, but is just life. 
We had planned to be in the Smokies for the peak of fall but fall was a little late or we were a little early. 
At first, we felt disappointed at the amount of green but quickly realized how cool it was to live immersed in nature while day by day we watched the green fade to yellow, orange, red and brown. Each day more leaves would fall down to the forest floor where we walked on trails of summer's end. It's a beautiful thing to witness, I've seen it before…but did I really see it? Just because it happened outside, was I so busy that I could have missed it? Living this way, closer to nature, I see it now and I'm thankful.
The Great Smoky Mountains is the U.S.'s most visited National Park. I hate to be pessimistic, but I found it to be overrated. It's beautiful for sure, the layers of mountains and all the trees and wildlife are lovely…but…it was very crowded and many of the trails were paved. There are few roads making traffic and trailhead parking really challenging. For pretty views, good hikes and waterfalls there are plenty of other places without the pavement and crowds. We did, of course, have a great time and made wonderful memories. I don't want to make it sound as if it wasn't wonderful, it just isn't near the top of the list of our favorite destinations. 
My favorite part of the park was the history. The area was settled in the 1700s and was full of community until the 1920s, when plans began to preserve the area. Then the land was purchased and given to the federal government. I do love that we had the foresight to protect the land, but I have empathy for those who built lives here. As I wander around the homesteads, churches, cemeteries and schools it feels so sad that these people's great-great-grandchildren can't farm the same land and bury their family in the same plots as those who came before them and started this country.
I definitely recommend taking the time to check out Cades Cove, my favorite part of the park, and spend some time reflecting on how different life was not so long ago. I always think I was born at the wrong time and would have done better 200 years ago. I could have lived a simple happy life in one of these homes spending my days in the garden, baking bread, caring for animals and children whom I'd read to by firelight with food cooking on the hearth. I'll recreate that life, only slightly more modern soon.  In the meantime, I enjoyed the inspiration. 
Near our Campground was Joyce Kilmer Memorial Forest, an impressive old-growth forest. Old trees are high on my list of favorite things in the world, so this place made me happy. This 3,800-acre forest full of trees, some of which are over 400 years old and more than 20 feet in circumference, was dedicated and preserved in 1936. We loved our day here. We love feeling the soft earth covered in fall leaves under our feet. We loved hugging the massive ancient trees and feeling the energy they gave off.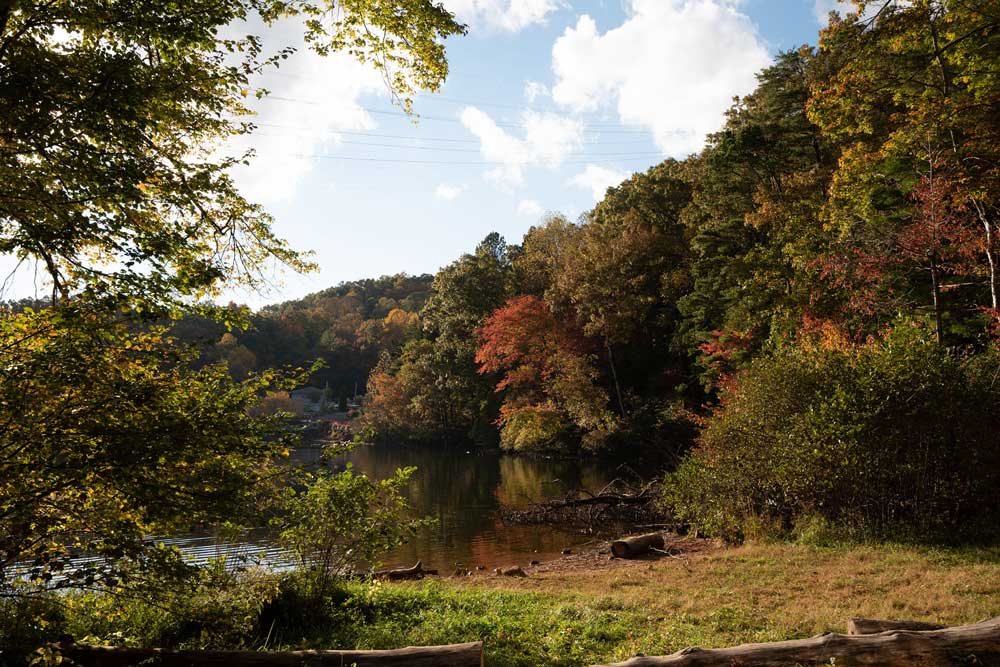 Lake Santeelah dispersed sites. There were just a few sites tucked back way from the road and this was the best one. Camping is permitted for free for 14 days. There were pit toilets but no other services.  When we arrived it was taken so we camped for a night down the road at Cheoah Point Campground which was lovely with beach access, water, bathrooms and showers. 
With each travel destination, I like to read a book to give me some extra insight into the area and to put myself in the history of a place through a good story.
In the Smoky Mountains, I enjoyed "Serena", a historical fiction story about the logging industry, and the deforestation of  North Carolina and Tennessee at the turn of the century. It's a tale of a woman making her way to fortune and overcoming any obstacle in her way. There is also a movie but I haven't watched it and therefore can't tell you if it's any good.