On our second day in the city, with rain on the forecast and a checkmark on the box for visiting monuments, we focused on the Museums and inside activities. Did you know that all the Smithsonian Museums are free!? (If you didn't already read about DC day 1, do so here.)
Some folks might be disappointed about the rain, but we like to look at things as opportunities for adventures. We've never owned umbrellas, never. I'm a firm believer in feeling the rain, dancing in it, embracing it, and experiencing it fully…we aren't umbrella-type people. However, I figured a whole day in the city in the rain with wet kids was a recipe for disaster. So we stopped at Walmart and everyone got themselves a rain accessory. You would think I bought these kids golden toys of their dreams, they were giddy with joy and we were off on a grand adventure, umbrella day.
We started our day at Union Station. This old train depot really is impressive. The arches, columns and Greek statues, crowds of locals going about their business were a really neat part of experiencing DC. We got hot, creamy, delicious lattes from Blue Bottle Coffee and sat with our maps and tourist guides to plan out our day.
We wanted to start with the Smithsonian Castle, but it was closed. We still enjoyed the rainy stroll through the gardens and our view of the exterior.
We then walked across the lawn to the Museum of Natural History. We had decided to stop here only briefly with the thought that we have visited other Natural History museums and we were short on time. That said, I wish we could have had a whole day here, the collections of artifacts were incredible. We checked out the gems and minerals section, Noah's favorite. We were in awe of the stones, by far the most spectacular I've ever seen, we even got to see the Hope Diamond.
Juliette wanted to do the Butterfly experience, a walk through a pavilion of flowers and butterflies. We giggled as they landed on and fluttered by us. We also got to hold a cockroach, a gigantic grasshopper, and see mummies. The museum had thousands of things to see, but for the sake of time we moved on.
Our DC frame of mind was to make it an all-American experience, so we were excited to see what the Museum of American History had in store. It is such a cool museum!
I was quite moved to see the gigantic flag that flew during the American Revolution and inspired the "Star Spangled Banner". As I walked through the display I was lucky to be joined by a group of teens on a field trip who sang the National Anthem, they set the whole mood.
The boys loved the transportation exhibit which showcased the first cars, trains, and motorcycles. We especially liked the lowrider and the woody. My only criticism was that the camper section lacked an Airstream, an American icon in the camping world, someone should donate them one.
In the inventions exhibit we saw Thomas Edison's light bulb experiment and his field notes.
Juliette enjoyed the exhibit of dresses worn by the Nation's First Ladies, including Jacqueline Kennedy, Lou Hoover and Michelle Obama. 
Our favorite, by far was the American culture section. We saw Dorothy's ruby slippers, Selena's outfit, Captain America's shield, R2D2, Sesame Street puppets and Mister Rodger's sweater. Ol' Fred is my favorite, so that brought me lots of joy.
From here we split up to best serve our individual desires. Dad took the kids to the Air and Space Museum (which was a fail because apparently we should have gone earlier to obtain tickets) and Mom got alone time in the National Gallery of Art. If you're reading this and are a person who loves art, please plan yourself at least a half day or better yet a whole day here. I only had a little over an hour and it's my biggest regret of this day. It hit my soul to witness pieces of art that I've known and loved since my youth but have only seen in books or prints. I saw art that was 800 years old, I saw pieces from the Renaissance period. I saw works from some of my favorite artists, Van Gogh, Monet, and Renior. What an honor.
At this point in the day, the museums were closing and it was time to think about food. On the way back to the truck we heard music and stumbled upon David's Tent, a tent dedicated to 24-hour worship. Since 2015, the sound of praise and prayer hasn't stopped right in the heart of the city.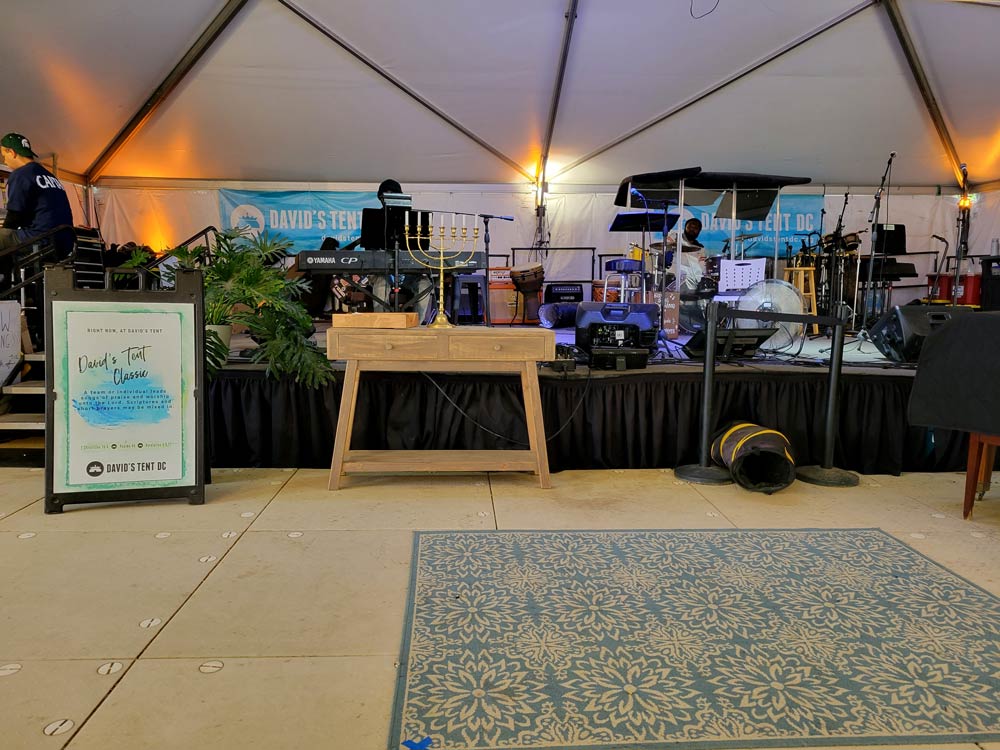 We finished our day with dinner at Ben's Chili Bowl. This establishment has been serving the community chili dogs for nearly 70 years. With retro vibes and a line out the door, we knew right away that this local staple was the proper choice for our city experience. We had the honor of meeting the owner, Mrs. Virginia Ali. This kind, adorable 90-year-old woman, known for the best banana pudding you've ever had, is a treasure to Washington DC. She told us the story of her life behind that kitchen counter. Her and her husband opened in 1958 when the community was still segregated and they only served African Americans. After MLK was assassinated, the neighborhood was overrun with riots and turned into a ghetto full of drugs, violence and prostitution, a time when she just "loved and fed the people." Now her business is still thriving, no doubt, from her love and generosity. We watched as she met a homeless man who came in and took him to the counter to order a meal and gave him her sweet smile and a good conversation. She blessed us on our journey and stamped herself in our hearts. It was the perfect cap for our time in the city.